Adidas Probes Kanye West For Allegedly Showing P*rn, N*de Kim Kardashian Photos To Yeezy Team, Bullying Staff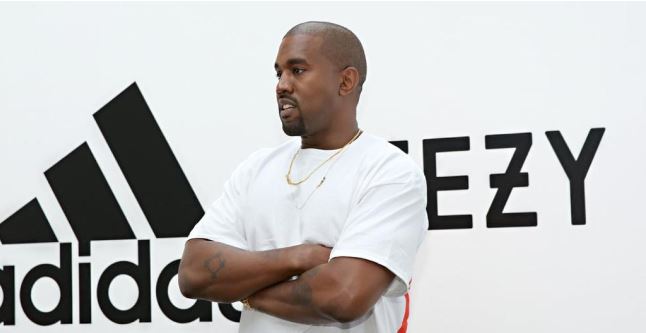 One of the major players in the sportswear industry, Adidas is set to probe Kanye West, reports have shown.
Adidas is looking into claims that troubled hip hop star Kanye West exposed his then-wife Kim Kardashian to his Yeezy team members and openly discussed p*rn at work.
It was learnt that West's team members wrote in a letter that they felt 'bullied and intimidated' by him.
They also accused their bosses of knowing about West's behaviour for years yet turning 'their moral compass off,' according to Daily Mail.
This allegation comes a few weeks after SaharaReporters reported that Adidas cut its Yeezy partnership with Kanye West days after he showed a "White Lives Matter" T-shirt design at Paris Fashion Week.
The German sports brand, therefore, said recent comments and actions from West, who has officially changed his name to Ye, had been "unacceptable, hateful and dangerous, and they violate the company's values of diversity and inclusion, mutual respect and fairness."
The company said it would take a "short-term" hit of €250m (£217m) to its income for this year after deciding to stop the brand's business with immediate effect. It is to end the production of items under West's Yeezy brand and stop all payments to the musician and his companies.
The shocking claims were first made in a feature that Rolling Stone published this week.
The Rolling Stone article said the letter, titled: 'The Truth About Yeezy: A Call to Action for Adidas Leadership,' accused West of being aggressive in the workplace, especially towards women.
The group said they asked Adidas to deal with the 'toxic and chaotic environment Kanye West created.' In another section of the letter, West is accused of subjecting workers to 'years of verbal abuse, vulgar tirades and bullying attacks.'
Commenting on the allegation, Adidas said: 'It is currently not clear whether the accusations made in an anonymous letter are true.'
The statement continued: 'However, we take these allegations very seriously and have taken the decision to launch an independent investigation of the matter immediately to address the allegations.'
At the time of writing, neither West nor Kim Kardashian's representatives had responded to requests for comment.