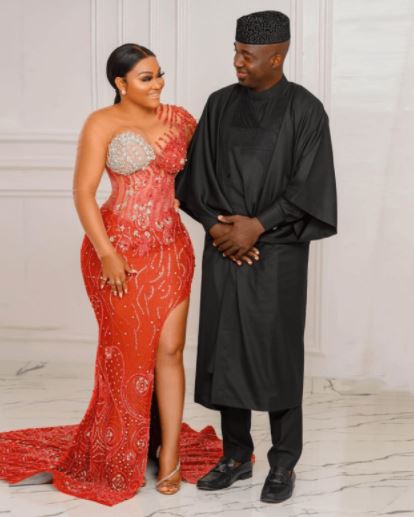 Entertainment
My New Husband And Ex-husband Were Never Friends
Aigbe and her new husband
Nollywood actress, Mercy Aigbe has claimed that her new lover, Kazim Adeoti (Adekaz) was never a friend of her ex-husband, Lanre Gentry.
Aigbe said this in reaction to claims on social media that the duo were once friends.
She made the revelation during a chat with the host of popular Tv show, Your View Morayo Brown.
Defending herself, Aigbe said: "I just want to correct the impression, Adekaz isn't Lanre Gentry's friend".
Following the unveiling of Aigbe's new lover, Kazim Adeoti, social media users raised concerns over the resemblance of the actress' son and her new lover.
Placing their pictures side by side, a tweep, @emmaikumeh, said, "The resemblance between Mercy Aigbe's son and her new husband is striking. She cannot even deny it.
"I hope her ex-husband does a paternity test. Things are happening. Every day, we see stories that reinforce the need to do DNA as a father. The street is military."
Confirming the paternity, Gentry took to his Instagram page on Monday, saying, "What is life? I thank everyone for your comments and advice about my lovely son, Olajuwon Gentry.
"My son is my son 100%. I love him so much. There is nothing in this world that can separate me from my children."
Aigbe got many talking on Sunday when she unveiled popular movie marketer, Adeoti, as her new lover.
Read Also